"hololive SUPER EXPO 2023" took place in Chiba's Makuhari Messe International Exhibition Hall, with its sister event "hololive 4th fes. Our Bright Parade" taking place at Makuhari Messe Event Hall. Anime Trending attended day one of hololive SUPER EXPO.
hololive SUPER EXPO is a central hub for all things hololive. Not only is the annual event a gathering place for Japanese VTuber fans, but this year also marked the first time that international fans could attend. With COVID-19 restrictions easing and an eager overseas audience, COVER Corporation opened ticket sales to fans globally.
We arrived at Makuhari Messe roughly ten minutes prior to the doors opening. To the detriment of everyone in the line, it was a rainy day. There were two hours of puddle-filled waiting between us and the wristband station, during which we missed the opening ceremony. 
For those in line with a stable connection, the ceremony alongside Motoaki "YAGOO" Tanigo's opening address was live streamed via hololive's YouTube channel. 
The first thing on display as we entered the main hall was a four panel stand featuring all of the hololive production talents with a walkway through the middle. The installation made for a grand entrance.
Through the walkway stood six pillars on which members of hololive graffitied messages prior to fans entering. While difficult to navigate with the number of eyes it drew, the exhibit provided a new way for fans to connect to the VTubers.
Beyond the pillars was a large, cylindrical board where fans could hang post-it notes to celebrate their favorite VTubers. Endowed with the signatures of every hololive talent, fans could share their messages and drawings in the section dedicated to their oshi.
Many of the attractions, featuring VTuber cutouts, were grouped into particular themes. For instance, there was the host club and a section dedicated to all things swimsuits.
As fans of hololive English, our favorite exhibit was the Fried Cafe. The space featured cutouts of all the holoEN talents stationed in an American-style diner alongside various plushies, replica items, and many other cute references.
Another highlight of the event was the art gallery. The exhibit was dedicated to showcasing art created by the hololive talents over their many streams. Not limited to illustrations, such as the one Ninomae Ina'nis drew exclusively for the EXPO, the gallery also featured Takanashi Kiara's sockpuppets and Amelia Watson's Rockodachi Tarrarium.
We took the opportunity to talk to a few of the dedicated international fans who made their way to Japan, in no small part, to attend the EXPO and fes.
"Mainly, this Japan trip was for EXPO&fes. and meeting friends and fans from all over the world. Of course, there are a few other reasons as well, such as eating Japanese food or visiting places like taking a Kiara pilgrimage to Enoshima and Love Live Aqours pilgrimage to Numazu," KFP member Jinro89 told Anime Trending.
Jinro could be seen walking around the hall adorning an awe-inspiring amount of Kiara merchandise.
"Repping oshi to the max is sort of an instinct. I have always tried to rep my oshi as hard as possible by giving fan support when it is needed. Also, getting appreciation from the fan base or from the oshi herself makes it worth it."
hololive SUPER EXPO met his expectations. Fortunately, he was also able to procure tickets to day 2 of fes.
"The concert was great! First of all, the calling/cheering ban was lifted, so finally, we could cheer our hearts out. Unfortunately, I only got the day two ticket, but other concerts like day one we had groups live watch along, so it was quite decent."
Jinro spoke about his experience meeting up with his fellow Kiara and hololive fans.
"You have to have been there to feel the full energy from the fans and community. During day two offkai, the restaurants that we went to hosted our group of 20+ and many other hololive fans. We all [raised our glasses] and cheered 'hololive', having fun and sharing each other's appreciation and support."
"As for KFP, we have always been supportive and communicate quite often. Finally, I was happy to meet fans from all over the world, people that I have spoken to online and that I wanted to meet, and I will never forget that."
KFP even had a pre-expo offkai meeting, taking over one part of the Akihabara station with over 50 members: "We had a blast."
"The event was definitely the main reason I came back for a spring trip after already having done a three week winter vacation earlier. But I still gave myself another week off to continue the vacation now with other things," Phosphatide told Anime Trending.
Phosphatide also came appropriately dressed. On day one, he bore Ninomae Ina'nis attire, chaperoning a plush Takodachi through the expo hall. The following day, he showed up in his Omocat Hakos Baelz drip.
"Being able to show your love for a member by expressing it through yourself like wearing goods is interesting, because it feels like your identity relies on that member, but at the same time it's just fun to show that off and meet others who feel the same or even beyond."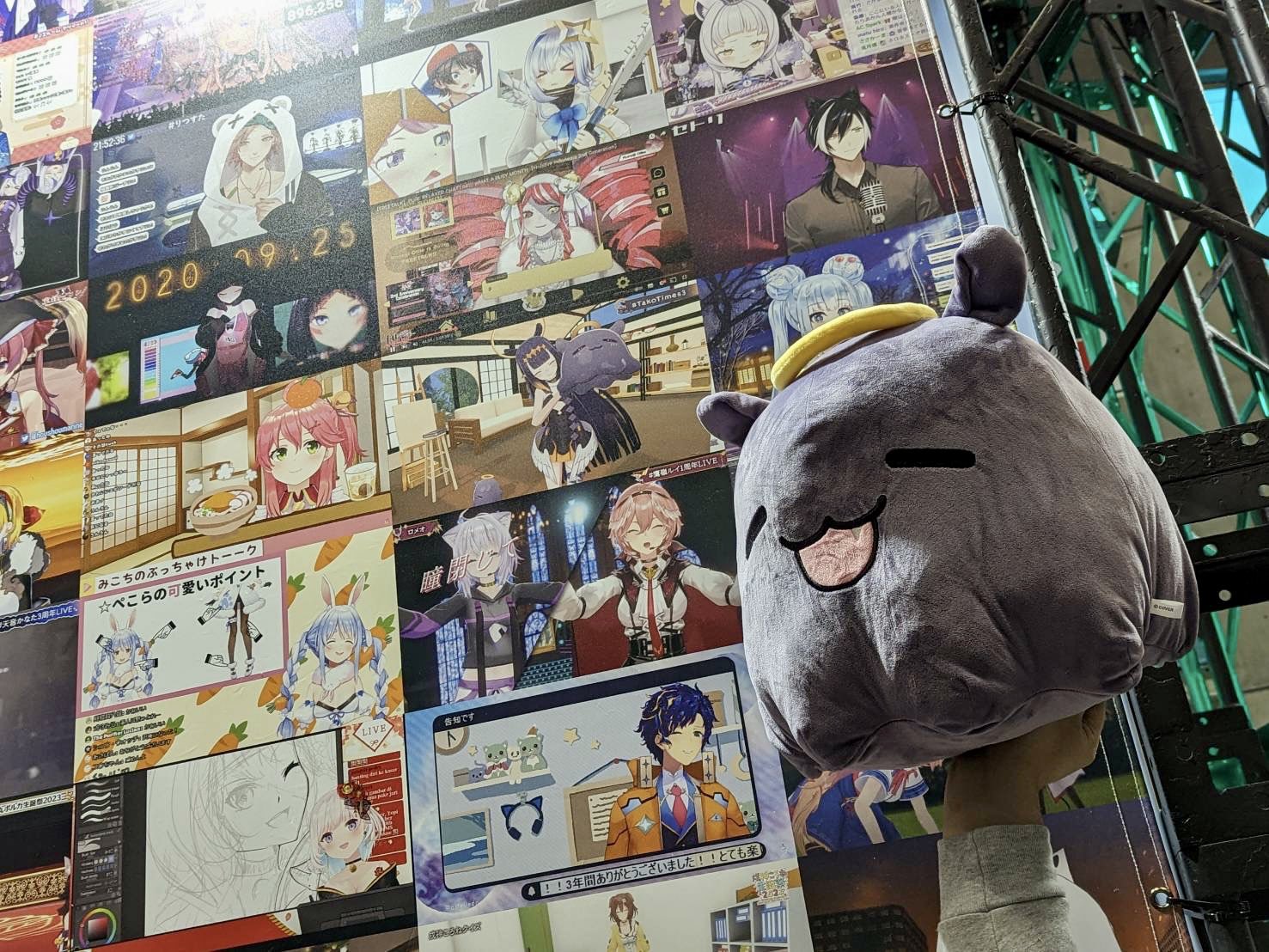 Unable to get his hands on fes. tickets, Phosphatide instead attended the holo*27 concert watchalong in the main hall.
"The holo*27 watchalong with A-chan and additional guests (Miko, Mel, Choco, Lui, and Chloe) was almost like being at the live itself, with the crowd still cheering and all, so that was a blast; just some extra commentary and MCing that some could see as distracting but I found endearing."
To Phosphatide, the event was also an opportunity to meet his fellow fans.
"It was definitely cool to meet other people, and in my case I also put effort into participating in fan meetups organized by both English and Japanese communities! I've always enjoyed meeting others through these gatherings, and it's great to talk about hobbies beyond hololive knowing we all still have common ground somewhere."
"hololive SUPER EXPO 2023" was well worth the pilgrimage for us. As the world continues to move away from COVID-19 restrictions, we would love to see how the VTuber space evolves through its live events. COVER Corporation continues to move things forwards, bringing their hololive concerts to the US through "Connect the World."
Ultimately, this was an event for the community to get together and celebrate with each other.